INITIAL 8-HR LEAD-SAFE RENOVATOR
April 14, 2022 @ 8:00 am

-

5:00 pm

$260
LEAD SAFE RENOVATOR INITIAL TRAINING (8Hour)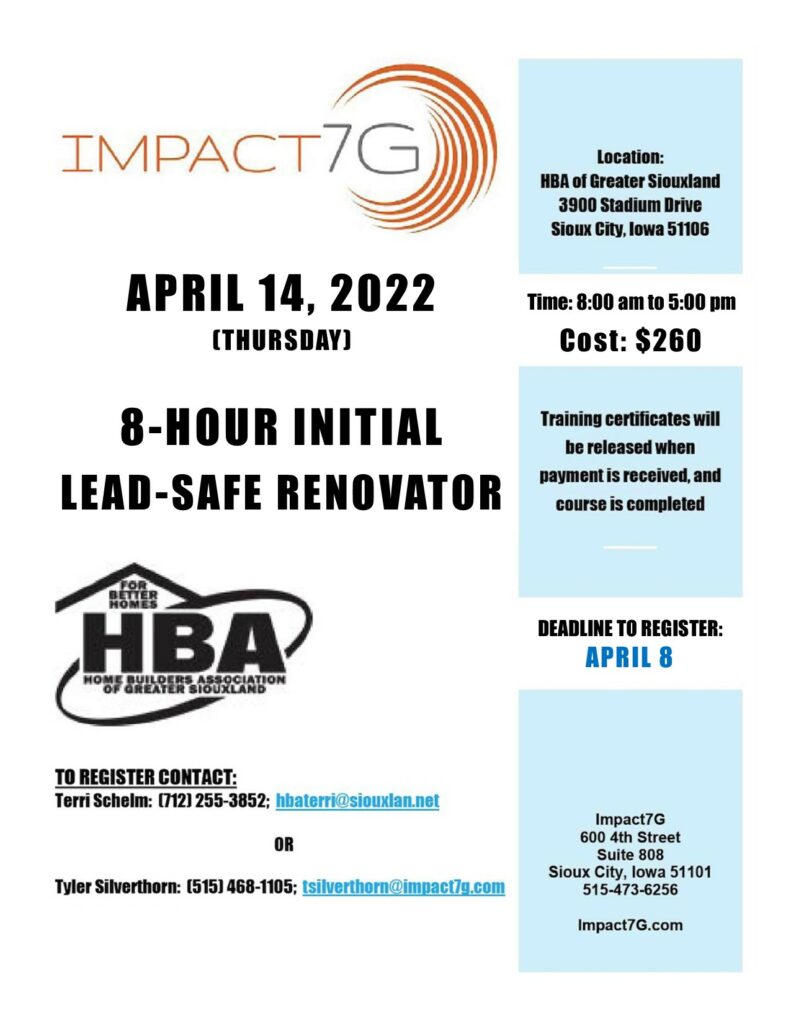 THURSDAY, APRIL 14TH
8:00 am – 5:00 pm

All contractors performing work that disturbs lead-based paint in homes or facilities where children under the age of 6 are present need to have understanding of the Renovation, Remodeling and Painting Rule explained in this initial course to become certified with the state.
Complete this EPA-accredited initial course to become certified!
According to the State, you must comply:
Once you have taken this course, you need to apply to Iowa Dept. of Public Health for certification. This course will equipment you with the necessary information, hands-on experience and certificate required by the State of Iowa. If you or your company provides remodeling, renovation or other home and building improvement services, don't risk facing thousands of dollars in fines. And, more importantly, don't place tenants and clients at risk for lead poisoning. With proper certification, you don't need to limit your work to housing and buildings built after 1978.
This course is for anyone who disturbs paint in target housing and child-occupied facilities:
Renovation and remodeling contractors
Contractors who replace windows and doors
Rental property owners
Maintenance workers
Painters
Plumbers and Electricians
Price:
$260

Location:
Home Builders Association of Greater Siouxland
3900 Stadium Drive, Sioux City, IA
Pre-registration Required
Contact Tyler Silverthorn at 515-468-1105 or by email at tsilverthorn@impact7g.com