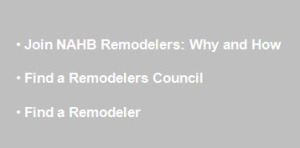 The Remodeler's Council's mission is to serve the remodeling industry and consumers by establishing a written code of ethics, quality standards and by offering information, education and professional designation programs.  We advocate professionalism, business and technical excellence and responsible government while representing the interests of the remodeling industry to regulatory, legislative, media, trade and consumer groups.  We promote the opportunity for safe and decent housing for all Americans through preservation and improvement of the existing housing stock.
To become a member of the Remodeler's Council, you must first be a member of the Home Builders Association of Greater Siouxland.  Applications are reviewed by the membership committee and then presented to the full Home Builders Board of Directors.  After becoming a member of the Home Builders, you may fill out an application form for the Remodeler's Council.  The additional cost for this council's membership is $50.
Remodelers join the Remodelers Council to improve their business management skills, to network with peers, to perform community service and to work for the betterment of the industry.  Remodelers from across the country meet three times a year at the National Association of Home Builders Board of Directors Meetings.  These meetings offer remodelers an opportunity to focus on industry issues, shape future activities and interact with their peers.  Our local group meets each quarter (sometimes a breakfast meeting or a lunch meeting) with a sponsored presentation from area businesses on various products. If interested in joining the Remodeler's Council, please contact the HBA office by phone (712-255-3852) or email – hbasooland@siouxlan.net.
Able Homebuilders
Willie & Jeff Delfs
712-203-HOME(4663) Willie
Earl Miller Construction
Austin Miller
712-251-1033
Foulk Brothers Plbg. & Htg.
Nate Foulk
712-258-3388
Gary Johnson Construction
Gary Johnson
712-277-2162
Kalin's Indoor Comfort
Bruce Kalin
712-252-2000
Lite-Form Technologies
Pat Boeshart
402-241-4402
Metro Electric Inc.
Robert Dundurand
712-233-2438
Gannon Roofing Supply
Mike Clausen
712-252-0571
Hirshfield's Paint
Joe Larson
712-252-0561
Siouxland Gutter Guys
Lorn Rogge
712-490-1784
Todd Hagaman Construction
Todd Hagaman
712-253-2103